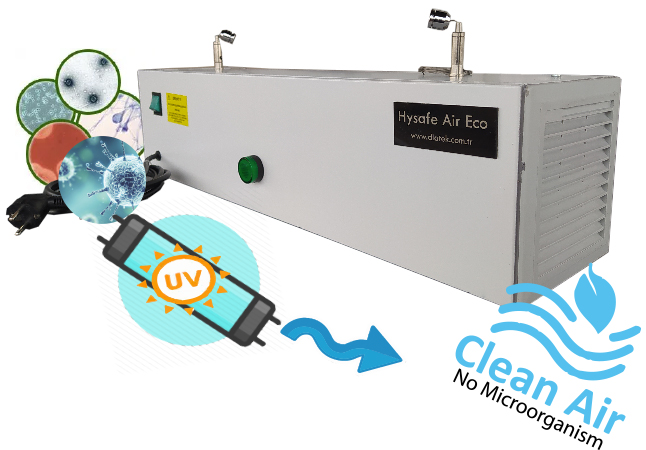 Hysafe Air Eco UV sterilization Device in our portfolio is can be used as a mobile by moving to different environments. It makes 75 m3 of air per hour microbially sterile. The fan draws air into inner chamber and make it sterile by UVC lamps in inner chamber and reflectors increasing intensity of UVC light, and gives back fresh air.
The carbon filters in the inlet and outlet sections of the device prevent to filter UVC light and keep malodor. In this way, while the device works, people and other creatures can be found in the environment.
• It is effective on all microorganisms (bacteria, virüs, mold and yeast).
• Lenght of the device is 60 cm.
• It makes 75 m3 of air per hour microbially sterile.
• The device can bu used for 125 m3 area.
• There are a fan and a 15 Watt UVC lamps inside the device.
• The reflectors in the inner chamber increase the intensity of the UVC light and concentrate on the middle of area.
• Height can be adjusted with the bracket.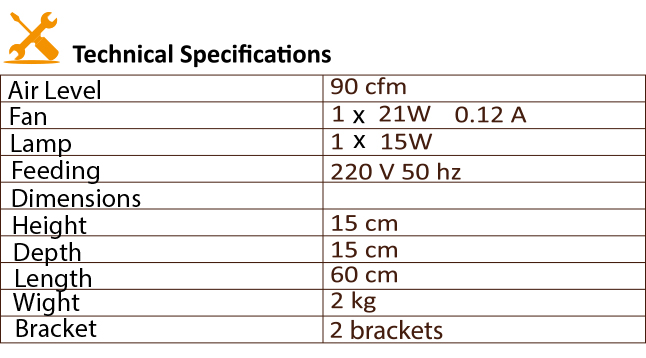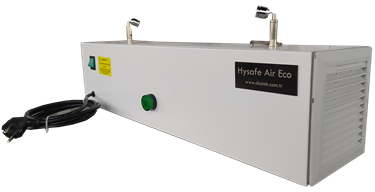 Security Information
• Don't use damaged power cables, sockets and plugs.
• The device should not come into contact with water. Do not touch the power cable and device with wet hands. This can cause damage to you and your device.
• If the device breaks down, do not repair it yourself. Otherwise, the device will be out of warranty.
• Do not drop the device during transportation, protect it against impacts.
Quick Start Guide
• The outlet section of the device must be positioned to blow air over a large area.
• After device is plugged into gorunded outlet. Press the red button and the red light is on.
• You can turn the device on and off with the A button on the remote control.
• If the UVC lamps shine, a green light will be seen from the surveillance
Cleaning and Maintenance
• The shelf life of UVC lamps varies between 9000-12000 hours. At the end of this period, the lamps should change.
• If the lamp does not work, the green light on Hysafe Air will not be light. You can change the lamp in that section by detecting which light is not on.
• Carbon filters at the inlet and outlet of Hysafe Air should be changed between 3-6 months according to the powder load of the enviroment.