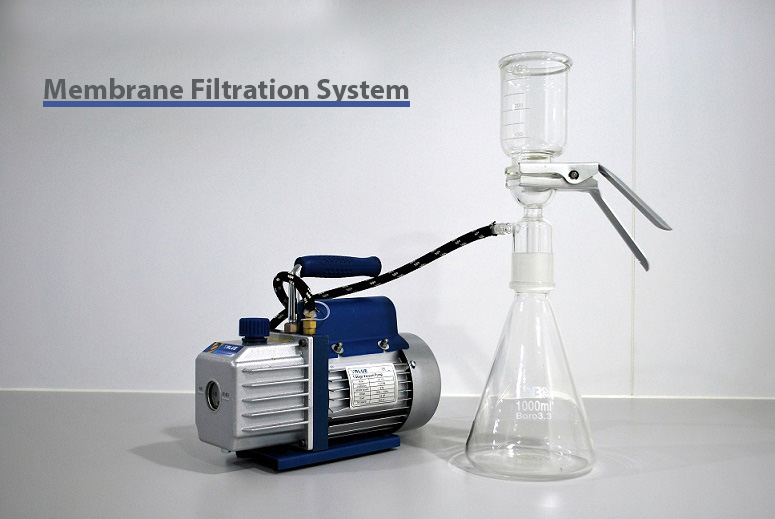 Membrane filtration allows analysis of water, liquid and solid raw materials used in food, pharmaceutical and cosmetic production and all finished products.
Membrane filtration system is used in both chemical and microbiological analyzes for quality control of food, pharmaceutical and cosmetic products.
The membrane filtration technique, which is one of the best methods used in the microbiological analysis of the liquid products, can perform analysis of larger volumes samples instead of 1-2 mL. Thus, it is possible to identify even if the sample contains very few microorganisms.
This technique is used in TS EN ISO 6222, TS EN ISO 7899-2, TS EN ISO 16266, ISO 7704, ISO 8199, ISO 9308-1 ve EN 12780  standards.
Membrane Filtration System Usage
The basic principle of this technique is based on the retention of the microorganism in the material to be analyzed on the membrane filter. In the membrane filtration method, the bacteria in the filtered liquid sample cannot pass through the filter and are kept on the filter surface.
During the investigation of the microbiological quality of the samples to be analyzed, the membrane filtration technique is used to filter the sample through membrane filter paper (Hypore GCNS) with vacuum support with Membrane Filtration System.
Thus, all living microorganisms contained in the sample are retained on the membrane filter paper.
For information about Hypore GCNS, please CLICK HERE.

The filter paper which holds all the microorganisms in the sample is placed on the suitable medium and placed in the incubator at the appropriate temperature the way that the filter part up.
You can use our Hypet Aqua ready to use mediums and specially prepared for Membrane Filtration technique.
For information about Hypet Aqua, please CLICK HERE.
Observation is performed at the end of the incubation. The colonies are counted depending on the type of medium.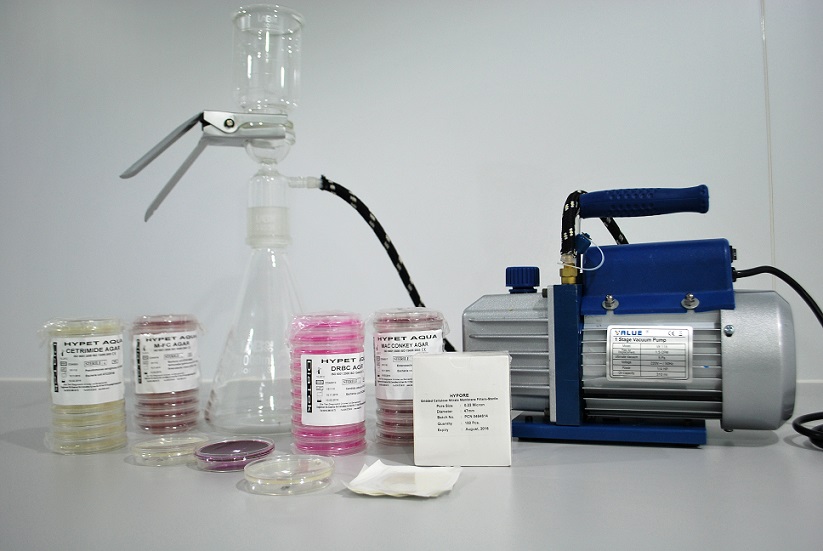 Vacuum Pump Properties
Level                                    Single level
Electric supply                    220V
Frequency (Hz)                   50-60
Flow rate                             3,06 m3/h – 51 Lt/sec
Partial Pressure                   2 Pa
Total Pressure                     150 Micron
Motor power                        1/4 HP
Connection Size                  1/4″ Valve
Oil capacity (mL)                 250
Dimensions                         290x124x224 mm
Membrane Filtration System Usage Areas
Water Analysis Laboratories
Water Factories
Beverage Factories
Water Treatment Plants
Universities