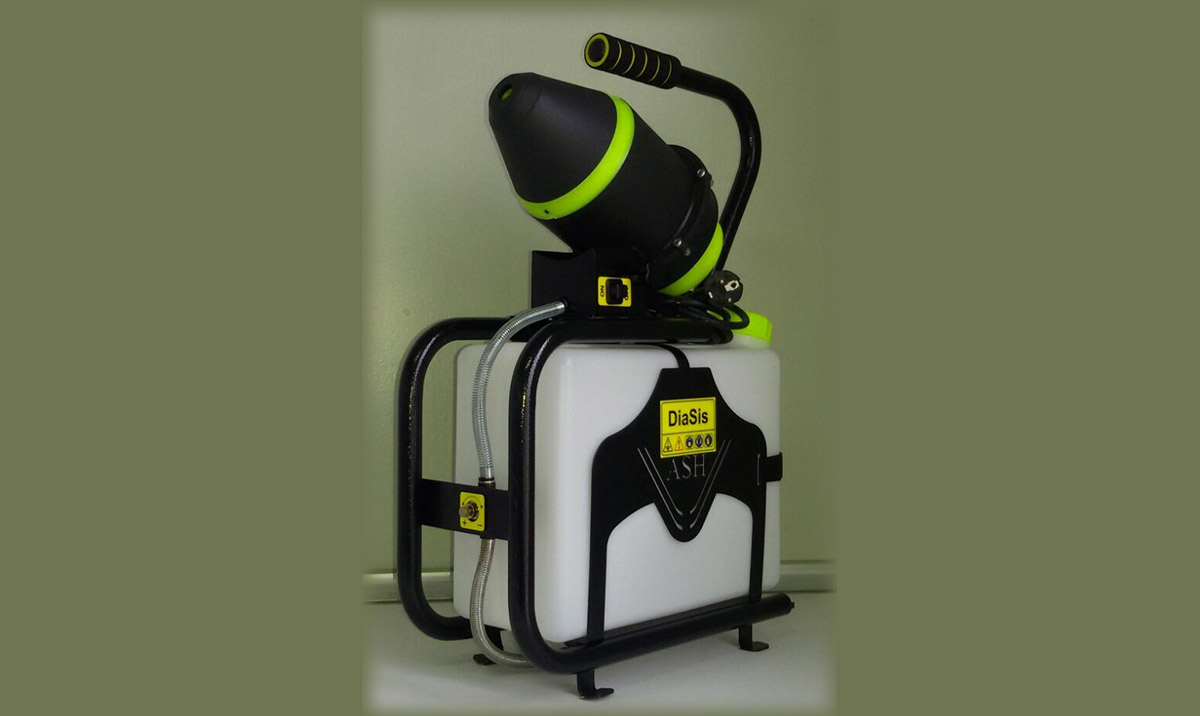 U.L.V (Ultra Low Volume) is an aerosol fogging device created with a fine spray technique with long-lasting impact power.
The particles formed by the U.L.V technique are 9-49 microns in size. Our device provides the highest, permanent, effective, realistic and economical struggle with the least active ingredient.
Purpose with U.L.V
To go to the final result by that the solution is divided into particles so that they will remain in the air for a long time (20-120 minutes), and the contact time with air and is prolonged.
Since the droplets is spread by the effect of wind in the air, the wind factor becomes important. Spraying in the morning and evening sunsets when the wind is stagnant coincides with the hours when the flying insecticides are intense in the air. 10-15 km per hour. rapid spraying is ideal. Due to these different features, the U.LV system allows the disposal of antiseptic and deodorants, as well as your pest control.
 WHY DIASIS U.L.V. DEVICE?
ULV spraying technique gives at least 5 times more efficiency due to the fact that the drug particles can stay in the air much more than the smoke system.
ULV system is a spraying technique approved by the World Health Organization (WHO). It is environmentally friendly.
It is possible to spray more areas with fewer drugs.
Because ULV is an aqueous system, it does not have a carcinogenic effect like diesel oil.
The drug mixed with water in open areas is applied from the ground with a large capacity ULV device mounted on the vehicle.
It is important that the drug used is approved by the Ministry of Health.
In addition, the insecticide used should not disturb the ecological balance and should not be of a pest immune type.
İnput Power  : 220 VOLTS 1200 Watt 50/60 Hz
Engine Head: Copolimer plastic
Air Throw      : 10 – 14 meters-appearing
Chassis                     : Electrostatic painted
Filter               : Can be cleaned with a sponge
Width             : 18 cm
length            : 47 cm
Height            : 58 cm
Tankage        : 10 Lt
Tank               : Copolimer plastik
Empty Weight          : 5,5 Kg.
Full weight    : 15,500 Kg.
Flow rate                   : 0 – 167 ml/min(Ayarlanabilir)
Particle Size : 9 – 49 micron
USAGE AREAS
Food producing places
Dairies
Warehouses
mews
Restaurants
Greenhouses
Hospitals
Schools
Housing
Cooperatives
Holiday Sites